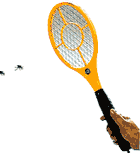 Do you use a fly swatter and tirelessly wait for the insects to stand still so you can get rid of them? That can leave you unsuccessful or leave bug splatters on your walls.

Now you can use our electronic fly swatter indoors and outdoors to effortlessly get rid of flies and insects. Shaped like a tennis racquet, you swing at the flying insects and they are electrocuted. The electronic fly swatter is easy, fun and safe to use.

Electric currents operate only while button is being pressed. Operates on 2 AA batteries (not included).
Features
Three layer insect zapper

The two outer layers will protect humans from accidental shock

Electronic insect zapper kills insects upon contact when activated.

Insect zapper has no smells, no poison or harmful materials, it constitutes no hazard to humans.

To kill the insect, hold the handle, press the switch and wield the swatter to make the insects touch the net surface.

Insects killed on the swatter surface can be brushed off or shaken off immediately. (Do not use water.)
Kills mosquitoes, flies, ants and all flying insects on contact.
Safe for indoor or outdoor use.
Not harmful to humans or pets.
Environmental friendly.
Contact:

P.O.Box 1624,

Ramat Modi'im,

Hashmonaim 73127,

Israel.

Phone: +972-8-9761070

Fax: +972-8-9761714
A woman walked into the kitchen to find her husband stalking around with a fly swatter.

"What are you doing?" she asked.

"Hunting Flies" he responded.

"Oh!, Killing any ?" she asked.

"Yep, 3 males and 2 females", he replied.

Intrigued, she asked: "How can you tell ?"

He responded: "3 were on a beer can and 2 were on the phone"